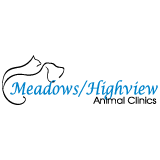 Receptionist
Alexis has been with Highview/Meadows since 1997 where she began as a co-op student! She now works as a part-time receptionist while she runs her own business, Calico Coffee House!
Alexis has a house full of rescues which include: Chalupa – a 5 year old chihuahua mix, Xena – a 9 year old doberman, Kira – a 3 year old husky mix, Tuula – a 9 year old pug, Masha – a 1 year old doberman mix, Mogley – a 7 year old cat, and Aldous Snow – a 4 year old cat. Alexis has rescued/adopted all of her pets and also fosters cats and kittens for Kitty Kare!
In her spare time, she likes to go for hikes with the dogs and reading.